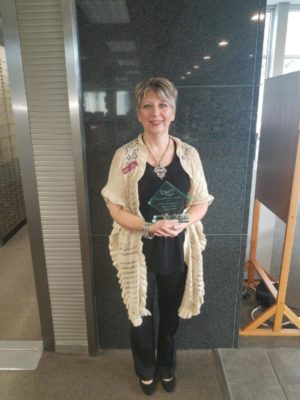 CEDAR RAPIDS, Iowa – (November 16, 2017) – Professional Women's Network is pleased to announce the recipient of the 2017 Woman of the Year Award as Ms. Elaina Kempin.
Since 1988, this award is presented annually to a member who has held a leadership position in Professional Women's Network; exemplifies the motto "Women Helping Women;" participates in events and financially and positively promotes PWN.
A member since 2000, Ms. Kempin has served in various capacities throughout PWN and was a past recipient of Woman of the Year in 2015. She has lent her time and talents to various PWN committees – Special Events, Community Outreach and Marketing, serves on the Board of Directors and has served as President in 2016 and 2017. She is pivotal in assisting PWN to obtain sponsorships and outside donations that support the PWN mission.
"I am honored and humbled to be recognized, not once but twice, by such a wonderful organization and group of amazingly talented women", states Kempin. "Our growth and contributions within the community will only continue to gain momentum in 2018".
Elaina is an Assistant Vice President and Director of Marketing at Fairfax State Savings Bank. She encourages local women to attend PWN events and serves in a public relations capacity for the organization by promoting key events within the community. A resident of Cedar Rapids, Ms. Kempin serves several local organizations including Cedar Valley Habitat for Humanity, Board of Directors; Anna Purna Ghosh Foundation, Board of Directors; Coe Corridor Network; and the Iowa Bankers Association, Marketing Board.