2015 PWN Woman of the Year: Elaina Kempin
Elaina Kempin was presented with the "2015 PWN Woman of the Year" award at the general meeting that was held at NewBo City Market on Thursday, November 19, 2015. She is the Assistant Vice President of Marketing at Fairfax State Savings Bank.
Click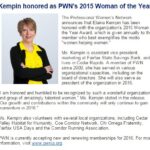 on the photo to read the article from the November 24th PM edition, Corridor Business Journal.
Elaina is also the incoming board president for PWN in 2016.
Congratulations Elaina and thank you for all of the work you do for our group!