PWN Featured Member: Michelle Cole, Mercy Medical Center, Especially for You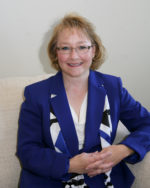 This month's featured member is Michelle Cole who is employed by Mercy Medical Center and has been the Especially for You Race Director since 2009.
Michelle shares, "I've dedicated my entire nonprofit career spanning over 20 years to fundraising and efforts to fight cancer. That is one reason Especially for You is so important to me. I believe in the power of collective action and having people come together to help each other.
As the race director, I have the opportunity to work with hundreds of volunteers who selflessly give of their time to make this extraordinary event a success. EFY is incredibly blessed. Thanks to the generosity of our community we're able to help eliminate financial barriers so that people in need can access vital breast cancer screening and breast care services.
Currently, I am half-way through my Master's Program in Philanthropy and Nonprofit Development at UNI.
I enjoy being a member of PWN. It's amazing to be a part of a group of women who are there to support each other and work together to help make our community better."