Now Accepting PWN Scholarship Foundation Applications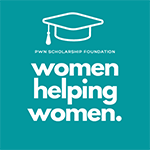 It's that time of year when we need your help to get the word out that we are now accepting PWN Scholarship Foundation Applications for the 2023-2024 school year.
We established the PWN Scholarship Foundation in 1992 and we have awarded over $35,000 to women in our community who are completing their AA or BA. Recipients are also provided encouragement and support from the organization's members.
The application can be completed online. The deadline to submit is July 30th.
The women who are selected to receive the $500 scholarship (we typically choose between 4-5 women each year) are also invited to our annual PWN Presents: A Celebration of Women Helping Women breakfast that we host in September to acknowledge and celebrate their accomplishments.
If there are any additional questions please reach out to our Director of Operations, Ann Roushar at pwn@pwn.org.